PE Days for Year Groups (2021-22)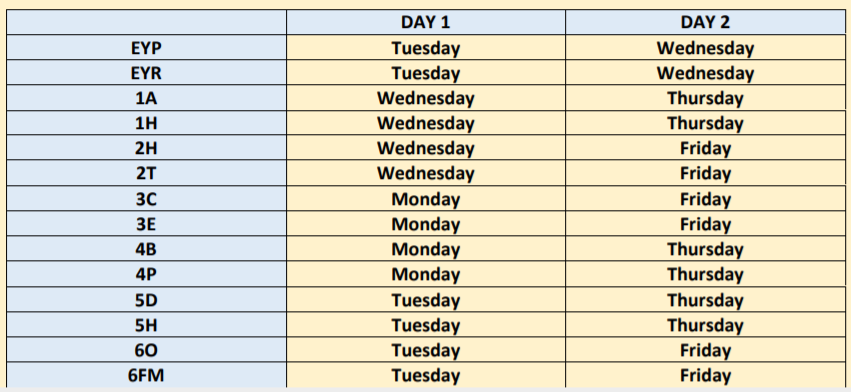 A high-quality physical education curriculum inspires all pupils to succeed and excel in competitive sport and other physically-demanding activities. It should provide opportunities for pupils to become physically confident in a way which supports their health and fitness. Opportunities to compete in sport and other activities build character and help to embed values such as fairness and respect.
Physical activity not only improves health, reduces stress and improves concentration, but also promotes correct physical growth and development. Exercise has a positive influence on academic achievement, emotional stability and interaction with others.
In Key Stage 1, pupils should develop fundamental movement skills, become increasingly competent and confident and access a broad range of opportunities to extend their agility, balance and coordination.
In Key Stage 2, pupils should continue to apply and develop a broader range of skills. They should enjoy communicating, collaborating and competing with each other. They should develop an understanding of how to improve in different physical activities and sports and learn how to evaluate and recognise their own success.
Furthermore, KS2 children are provided with the opportunity to attend the swimming baths for swimming lessons. During their lessons, children are taught to:
Swim competently, confidently and proficiently over a distance of at least 25 metres.
Use a range of strokes effectively (for example, front crawl, backstroke and breaststroke).
Wherever possible, opportunities will be taken to:
Teach pupils the importance of looking after their own body.
Teach pupils the benefits of exercise and a balanced diet.
Engage pupils in decision making.
Encourage pupils to take the necessary steps to improve their own and others' performance.
Relate experiences to the Olympic (Respect, Excellence and Friendship) and Paralymic Values (Determination, Inspiration, Courage and Equality).
Engage pupils in intra-school and inter-school sport competitions.
Children are taught Physical Education (P.E) in weekly practical lessons both indoors and outdoors. Therefore, each class will receive 2 hours of physical activity per week.
The School Sports Premium Funding assists us in delivering a high quality PE provision. (See Sports Premium Funding).
Extra-curricular breakfast, lunch-time and afterschool sports clubs are provided by members of staff and external providers.
All children are required to have their PE kit in school for every P.E. lesson. Items required for indoor and outdoor PE are outlined in the children's Home School Diary.